Site Updates
10/10/03 Official kick off of HIGH ADVENTURE ONLINE.
SPECIAL ANNOUNCEMENT 5/30/05: HIGH ADVENTURE ONLINE is closed due to low volume of submissions. However, you will still be available to find a plethora of "modern day" action-adventure AND heroic fantasy at the main site HIGH FANTASY ONLINE (www.highfantasy.iwarp.com). So basically, two sites will be rolled into one for your reading and writing pleasure.
For the time being, you may still enjoy the stories that are here.
See, that wasn't so bad.
Got your action right here, bub!
You are adventurer number 17824 to view this site!

What is a Action/Adventure Story?
Action/adventure is about the mythic yet believeable heroic figure meeting life's challenges in a modern day setting, in some setting in the past, a setting in the not-so-distant future. The characters are extra-ordinary set in extra-ordinary situations.

Got your own definition of ACTION/ADVENTURE?

Send your definition to: high_fantasy@hotmail.com
Submission Guidelines
Send attachment (.doc or txt.) or copy into message of email. (DOC or TXT attachment preferred.) Written work should be 3,000 words or less but will make exceptions for exceptionally good longer stories. No porn or sexual material. No over the top excessive gore unless warranted. Send me a synopsis of your tale before submitting if you have any questions to what I am looking for. Stories can be scifi, techno-thriller, military, flights of fancy, modern heroic fantasy. Story setting should take place anywhere between the late 19th century, 20th century or beyond. (Send your sword & sorcery tales to High Fantasy Online at http://highfantasy.iwarp.com), etcetera, but MUST CONTAIN ACTION AND ADVENTURE ELEMENTS. I cannot pay for your work so submit only if you like to write and want exposure on the Net.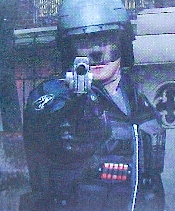 Write or Die!
Send submissions and comments to: high_fantasy@hotmail.com